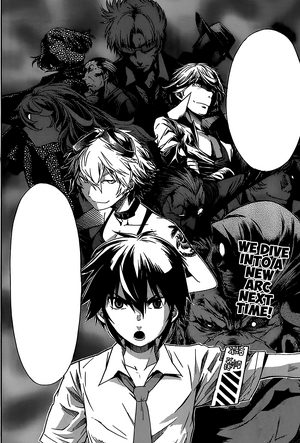 The Master Ranks Mercenaries are a group of professional mercenaries who do not possessed any formal raformal Rank of any Mercenaries. They were considered as celebrities in the mercenary world for their professionalism in both charisma and skills. Due to their reputations, some of them are considered legends by most mercenaries.
Overview
These legendary Mercenaries are one of the top figure in the mercenary world. Unlike any ordinary mercenary ranks (A,B,C,D,E,S), these legend have the authority to promote a Mercenary (ex:Jeanne) or to demote one (ex:Toura,Zanbenee). Due to their superhuman ceradibilites and charisma, these legends also rumored to be so strong that a single mercenary would worth a batalion of one nation's entire army. Despite their high rank and absolute authority, their position can be unstable from time to time and most of these position can be replaced by anyone who possesses a caliber or talent of Master Mercenaries. There are at least 3 ways to attain Master Rank. Among of which are,
Inheriting the title from a master through family ties.
Filling a vacant spot by retirement or death with the approval of at least three Master Ranks.
Killing a Master Rank and taking their place.
Plot
Meeting of the Thirteen Master Ranks
With the Child Room's revival and the Teyotoyo incident known to public, Morito had to assemble all 13 (including himself and Mammon) Master Mercenaries in an emergency meeting. While originally held the meeting in Russia, Ann instead held the meeting in the Mikaido High School and with the heighten securities, she ensured Morito and other that the meeting would be free from interference. Prior the meeting, all 12 mercenaries, from old legends to new faces, arrived into the Meeting Hall.
With an exception of Sakari, all twelve mercenaries were assemble at the Meeting Hall with each sides consisted with six mercenaries. However, everyone (except the right side Mercenaries) were surprised to see Sayuri took the Shogun's place and non-nonchalantly commenced the meeting. Before the meeting could even commence, Sayuri and Ann argued towards each other before Sayuri showed Sakari weeding ring, which Frida identified it and confirmed the Shogun's death. Jeanne attempted to assassinate Sayuri from behind . The meeting almost turned violent when Sayuri's mockery to Ann has prompted all mercenaries (except Morito and Simon) point their guns at each side. With Simon calling however, all mercenaries began to calmed down and the meeting began with Morito discussed about Child Room's revival. While Sayuri considered his claims as a "compliment", Morito continued as he reported that the vile organisation had six mercenaries as it's prominent allies.
As the meeting continued, Sayuri and Ann were defending their philosophies when Sayuri claimed Mikado High School were also trained killers, which Ann denied as she the school did used any brainwashing as Sayuri did.
Sol's and Chico's Attack onto Morito
After the meeting, Ann had to muster the remaining six Master-Ranked Mercenaries as her supporters, while Morito would retrain his protege at a remote island during their Summer Vacation[1]. Coincidentally, Kotonoha and her friends were also asking Morito take them for their summer, in which Morito reluctantly complies. During the vacation however, an accident occurred when Morito was touched by an unknown light which caused him to suffer amnesia, whilst reverting to his child-like state.
Meanwhile, Sol and Chico arrived to the island under Sayuri's order in attacking Morito, along with resurrected Salim, General Gaia and Rose Sisters.
Members' Profile
Current Member
| Merc Rank | Name | Affiliation | Nickname | Nationality | Status | Description |
| --- | --- | --- | --- | --- | --- | --- |
| 1 | Masakado Sakari | ??? | Shogun | Japan | Unknown (Killed by Sayuri?) | The legendary mercenary whose reputed as the creator of the Ranking system, and a feared and respected figure to every mercenary in the world. He is also an ex-husband of Ann Shimona the Principal of Mikado High School. |
| 2 | Frida Detto | Mikado High School | ??? | Unknown (Presumably India) | Alive | A former military surgeon and battlefield doctor. He is among of few who knows Sakari's and Ann's past. |
| 3 | Ann Shimona | Mikado High School | Principle | Japan | Alive | Respectable principal of Mikado High School and Sakari's ex wife, whom even Morito respected and feared. Morito is often addressed her as grandma. Despite being handicapped by her crippled legs, Ann remained active as the Master Ranked Mercenary and the Mikado High School's observer. |
| 4 | Morito Hayama | Mikado High School | Little Boy | Japan | Alive | An underrated legend (thanks to his baby face) and also a student of the Mikado High School, Morito is also known as "little boy" because for his short figure.His real reputation however is his unparalleled mercenary skills that nearly matched with his former mentor Sayuri. There were legends about Morito that he has higher body count and a lose cannon among the thirteen, who easily gone berserk whenever he is intimidated. |
| 5 | Alex Wheeler Jr. | Child Room | The Youngest Master Rank | USA | Alive | The youngest Master Rank and also Morito's former protégé. Behind his flamboyant and sweet mannerism, Alex is actually an ambitious, devious and even sadistic villain who isn't afraid to get his hand dirty to achieve his objective. Recently, he is Sayuri's partner in crime in one of Child Room's atrocities. |
| 6 | Jeanne Hamelin | Mikado High School | Heiress of the Hamelin | France | Alive | The Matriarch of the Hamelin Family and her rank is given via the Hamelin Family's inheritance. She is also the mother of Gisele and Mytra, as well as Morito's long time acquaintance and former crush. |
| 7 | Mammon Malphas | Mikado High School (formerly Child Room) | Crow | ??? | Alive | Former hired-mercenary and Child Room's assassin who recently joined the Mikado High School after the Teyotoyo Incident. Although rumored to be calculating and vicious mercenary, Mammon is actually a laid-back and flexible acquaintance of Morito. |
| 8 | Chico Dragon | Child Room | ??? | ??? | Alive | A bartender-turned-mercenary who begrudged against Mammon for toying his feelings and stolen his family treasure the Dragon Family Ring, without knowing that his would-be-fiancee "Linda" was actually Mammon in disguise. He is a proficient pyrokinesis specialist who use his fire that allows him to survive gunshots attacks. |
| 9 | Simone Barto | Mikado High School | ??? | ??? | Alive | A Mercenary and battlefield photographer, Simone is a carefree mercenary who enjoys taking photo almost in everywhere whilst flirting with women. Surprisingly, his protégé Hanako also appears to be his daughter. |
| 10 | Sol White | Child Room | ??? | ??? | Alive | A mad scientist who is notorious for his cruel experiments and his intellect, though he also has some tendencies to rely on cunning and wits to survive the battle, even some of those tactics are deemed as cowardly. He also having a deep grudge against his fellow mercenary Morito, who survived all of his inventions and traps in many occasions. Through Sayuri's intelligence, he was also one of few who knows Morito's true identity as "Yaasen". |
| 11 | Simon Beiler | Child Room | ??? | USA[2] | Alive | A former mathematician who is notoriously known for his Numerology[3], the power that rumored to be strongest and opts even Morito and Mammon to be vigilant towards it. Rumors indicated that he has killed two Master Ranked Mercenaries prior to his rise. While he is also one of Sayuri's associates, Simon also allegedly the only person who unlocks Rena's awaken personality Juri, who is also known as Sis the #13, in order to pit her into a battle against Morito. |
| 12 | Brad Fyodor | Child Room | ??? | ??? | Alive | A monstrous figure of the thirteen, Brad is the largest Master Ranked mercenary who is known for his intimidating looks and hulking figure. Behind his abomination like appearance however, Brad is one of Morita few respectable mercenary and actually fond of children and small animals whom he willing to protect from any harm. For unknown reasons though, Brad allied himself with the Child Room. |
| 13 | Sis** | Child Room | ??? | ??? | Alive | A woman whose entire body was covered by bandages and cape. It is later to be Juri Hayama, one of Rena's many personas who only to be awaken by Simon's numerology.[4]. |
*While Sakari's whereabouts and status are remained unknown, Sayuri was see donning his cape and take his place at the meeting when Alex announces he is "late". This leads everyone believed that Sakari was either assassinated by Sayuri or retired for the "replacement".
*Although introduced in chapter 33, Sis's real identity officially explained in Chapter 45 as Rena's dominant persona Juri.
Former Masters
Protégé
Each master has at least 1 protégé at their side.
| Name | Master | Nickname | Status |
| --- | --- | --- | --- |
| Elena | Morito | Cold-blooded Empress | Alive |
| Sabine Hammershmidt | Morito | Battlefield Merchant | Alive |
| Daigo Hiromi | Morito |  ??? | Alive |
| Toura | Morito | Silent Panther | Alive |
| Salim | Morito | Blind Warrior | Resurrected* |
| Alex Jr. | Morito |  ??? | Defected (to Sayuri) |
| Jin Daifan | Ann |  ??? | Alive |
| Rena Hayama** | Ann | Morito's Daughter | Alive |
*Salim was originally dead during one of his fatal mission until his resurrection via the Dead Language. However, his current role only served as an observer rather than fully affiliating himself with Sayuri and the Child Room; additionally, according to one chapter[5], his reasons to join Sol and Chico to the Summer Island was to see Toura's growth and (temporarily) reunites with Morito.
**Despite her enrollment under Ann's guidance , Rena actually served Ann's as her comrade instead of protege; additionally, her reason to be in the academy is to reunite with her father
Trivia
While being the shortest Master-Rank Mercenary among the thirteen, Morito also has most Protégé under his wings which includes the former such as Salim and Alex. Currently, with Daigo changed into a woman, most of Morito's protégé are females.
Of all thirteen mercenaries, only Mammon, Chico, Sis, Sol and Borat are classified as unattended list. Their meeting would also be their first, and they also do not have any protégé besides them.
Reference